Funnel Hacker meets the Unstoppable Family
Hello tribe,
So here we are.
Fresh and back in Bali after a couple of intense weeks in the United States, and decided that would be a good idea to share all the highlights of our trip to mama USA as we have so much to be grateful for. In fact, there was so much going on that we might need to write another couple of blogs to continue this adventure.
First I would like to thank all of you that joined us at the Orlando Mansion for the UNSTOPPABLE MASTERMIND "Secrets of the Experts" Event.
The whole mastermind was a reunion of old friends and the creation of new relationships. It is always so extraordinary to see some faces that keep coming to our events for almost 10 years now. It's humble for us to have such a tight and strong tribe that stay committed to the message – and that has been one of our biggest achievement within the business.
Also thanks to the new member! To have this tribe growing with all the new people is what makes the message solid. So thank you all.
Apart from networking, JV relationship building, and inspiring conversations, as per Unstoppable style, a lot of mayhem was created – pool parties are always a must and so are the opening night with our traditional Italian welcoming dinner, where everyone is encouraged to get in the kitchen and show off their cooking skills.
But during the dinner, as proud parents, we do have to agree that the highlight was seeing our daughter Hanalei opening the dinner by sharing passionately her vision to our tribe.
She explained her inspiration behind the Unstoppable Kids program and why is so empowering to be asked "What do you want to be now?! – instead of when you grow up.
As parents, we were beaming – after all, we are experiencing the result of all the hard work we put on raising her. We have always believed one of the most important opportunities we could give our child, was allowing her to be herself and let her follow her dreams, so we have always asked her what she wanted to be NOW rather than what she wanted to be in the future.
So we are very humbled about all the people that have found inspiration on liberating their children and let them following her passions – so a thank you to all of those approaching us on the subject.
But Hanalei shining moment did not end here, in fact she had a monumental evening as she featured her clothing line for the 1st time in the USA and within a couple of hours, she sold half of her inventory of limited edition robes and dresses and took custom orders for her "Ready to Wear" runway collection that is coming next month.
To top all that, she did her first online Sale. What a great turnout. She was particularly excited about that.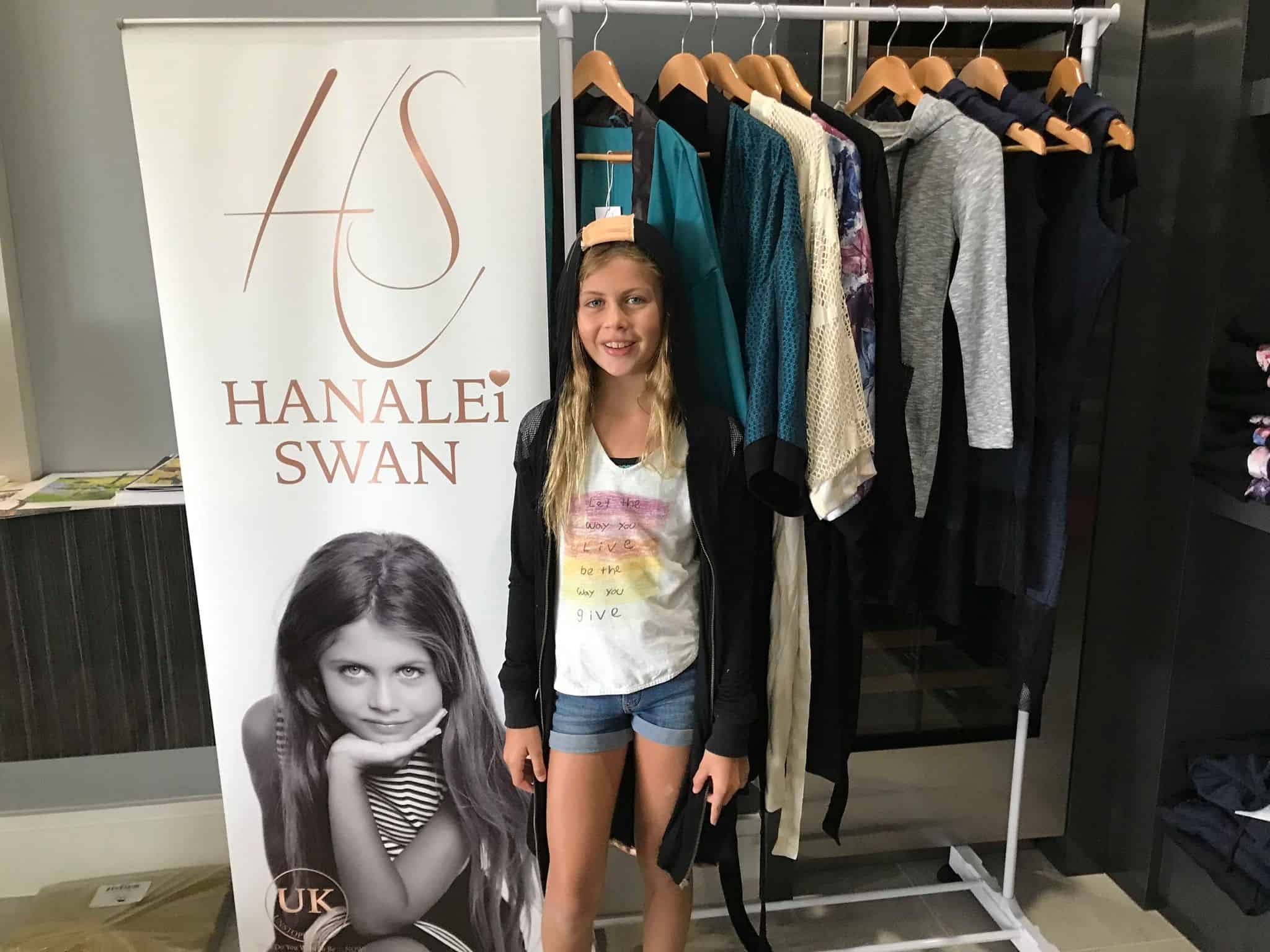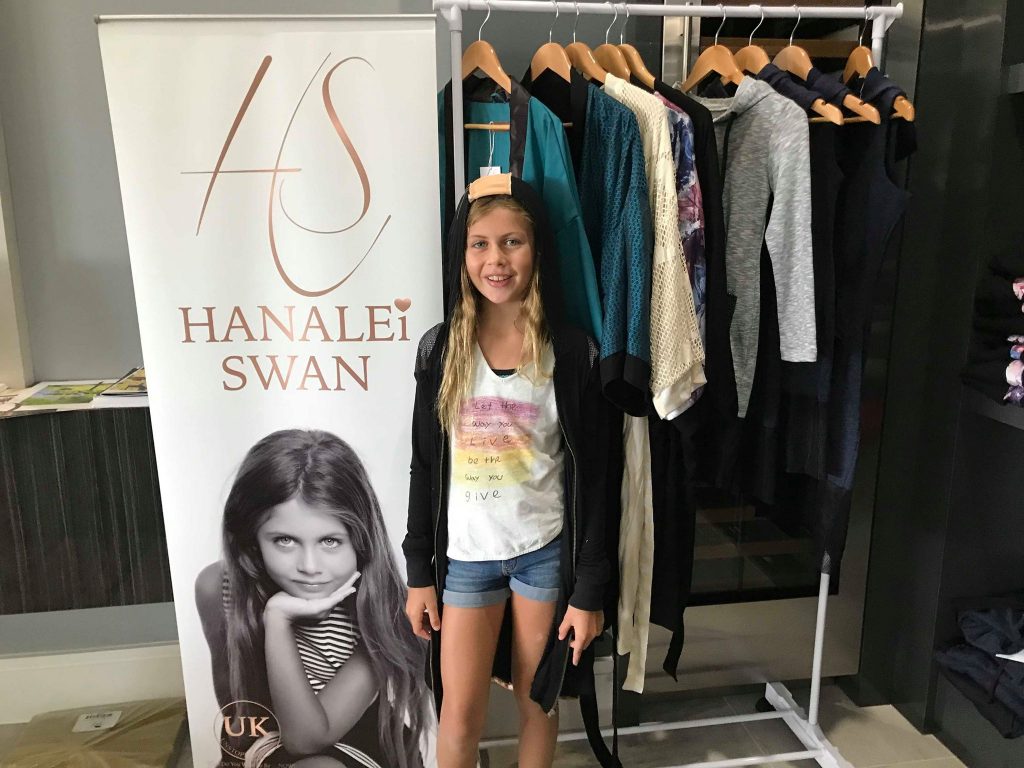 In Hanaleis own words:
I am so excited as I have made my first online sale. I have sold a lot of my designs, in fact I even have sold out the first time I introduce my creations, but as a young millennial I want to focus on my online store as that way I can reach so many more of you, so it was pretty exciting, after all the hard work we had to create a good online platform to show my collection and I am super happy and can't wait to have a busy store. You can help me by visiting my story and buy something if you would like =) https://fashion.hanaleiswan.com/collections
On top of my first online sale, I also sold most of my items here in Orlando since as promised, I brought with me a limited inventory of my Unstoppable collection and got a lot of orders for my "Women ready to Wear" collection, so it has been an unstoppable week for my fashion business.
We are so proud of her and of how she is achieving her dreams at only 10 years old.
Moving on to the Funnel Hacking Live 2018, which was one of the main reasons we went to Orlando, what an incredible event. We have been to hundreds of events and I can say this was special.
Meeting all the wonderful professionals and dreamers at the 2 Comma Club was incredible and we were extremely honored to receive the 2 Comma Club Award at FHL2018.
What an accolade and what a privilege to win it with other incredible entrepreneurs and inspiring speakers.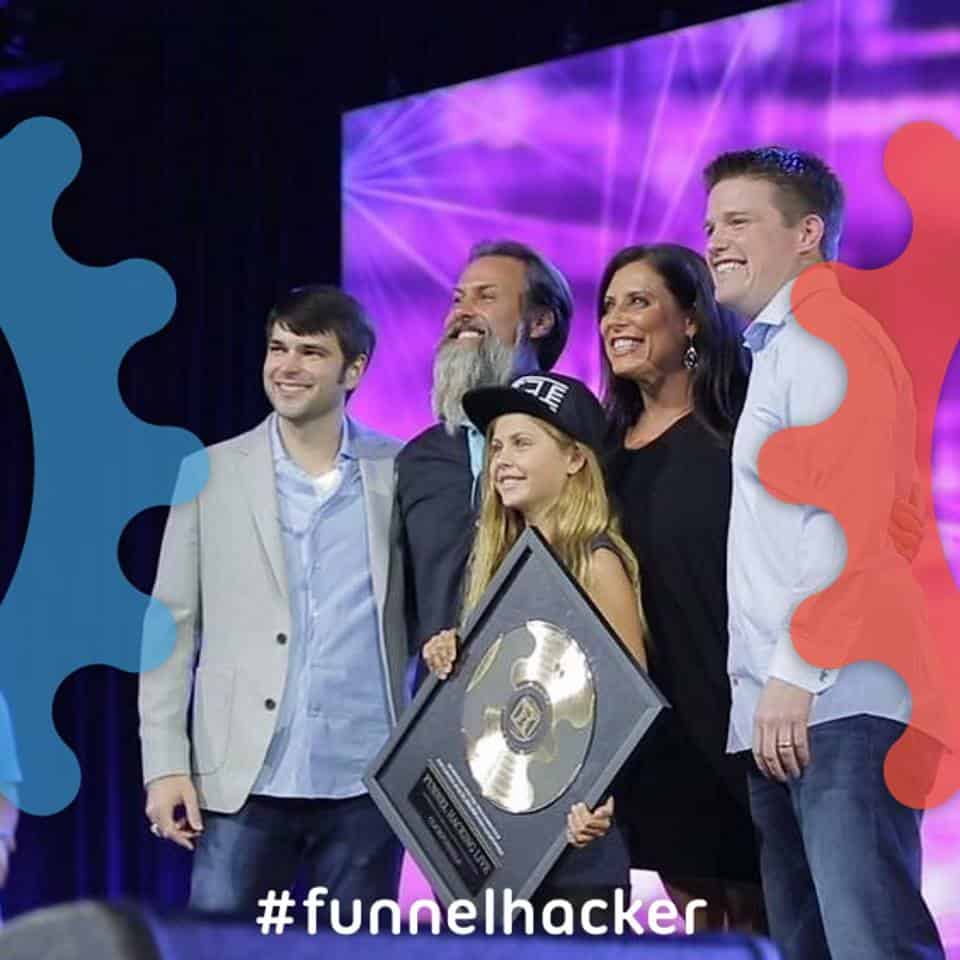 And talking about inspiring speakers, one of Hanalei's highlights was actually getting the chance to meet and chat with Alex Charfen. He gave her some profound advice about being a young entrepreneur and she was impressed how he treated her as an equal rather than just a kid. On top of that, he shared a story of when he met Dr. Wayne W. Dyer which is Hanalei's hero.
But after a few days, the event came to an end – but forever in our memories with all the great connections we solidified and the news we created. Hope to see you all at the next event.
Much love from Bali,
The Unstoppable Family