Unstoppable Mastermind New Orleans, LA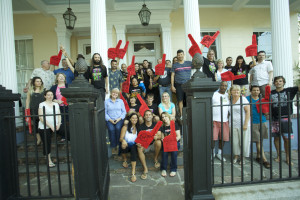 If you were to search google for (MasterMind  and  Magic) You would find many people who have described what goes on in a MasterMind with this word "MAGIC" simply because no one,  "UNTIL NOW" has been able to capture and explain what makes a MasterMind Group so powerful and effective.
Some have wondered aloud as to why some MasterMinds change lives, and other groups can barely stay together for 3 months.
THE MYSTERY
Napoleon Hill tried his best to unravel the mystery and communicate the absolute necessity of being involved in a vibrant MasterMind, explaining that when we come together a "third mind" is formed, and this third mind  is somehow connected with the knowledge of the universe.   For some of us that answer does not give us any useful information on how to make MasterMinds more effective, or to truly understand how the work if everything is explained in metaphysical terms.
MASTER THE MASTERMIND
It is the goal of this site to give you the best and most comprehensive perspective on the inner workings of a MasterMind Group.  Even more importantly than that it is our goal to give you the tools and perspective to make the MasterMind work for you. Because if you can "MASTER THE MASTERMIND" then you will find that your success in guaranteed!
YOUR SUCCESS IS GUARANTEED! 
In a world where over 90% fail and only 1% achieve financial freedom, Guaranteed Success may sound like and outlandish over hyped marketing gimmick.  And I suggest that you do NOT believe it.
The first time I heard Napoleon Hill say…
"The MasterMind will Give You ABSOLUTE PROTECTION from Failure"
I must admit the first thing that came to my mind was…  Wow this guy is a great marketer!  Then I started to look a bit deeper. The more I studied the more realized that Napoleon Hill was right all along.  Not only were MasterMinds a good idea, but to quote Napoleon Hill one more time….
"You CAN NOT achieve your major definite purpose in life with out using the power of the MasterMind."
My research looking at the most successful people in the world has confirmed Napoleon Hills research again and again. People either use the MasterMind by conscious choice or  they naturally or instinctively use the MasterMind.  However there is NO major success without the MasterMind.
IT IS YOUR TURN!
Now it is YOUR TURN to prove it to yourself.  You can disagree with Napoleon Hill all you like, but in my humble opinion at the very least you will delay your success my years, or sabotage it your success all together.  By the time you figure out Napoleon was right reversing the lost years will be a much more painful challenge.
TAKE ACTION
If  YOU ARE READY to take your life, your success, and your dreams seriously it's time to TAKE ACTION.  Commit to being at the next Unstoppable Mastermind in Orlando October 20-27th.
To be part of the mastermind you must join our tribe.
Join the Unstoppable Tribe NOW