Our Neighbor , Jamie Anderson wins the GOLD MEDAL!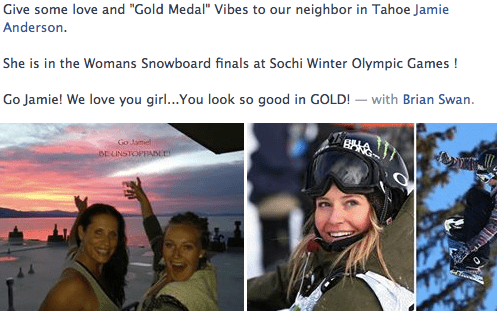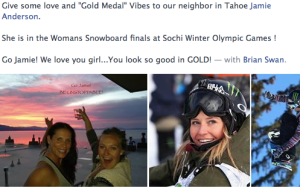 Exciting day for the woman's snowboarding and South Lake Tahoe, Ca.  I am proud to say our neighbor and friend, Jamie Anderson took the GOLD yesterday in the first Olympic slopestyle snowboarding competition on Sunday in Sochi, Russia.
Jamie and I used to sit on our terrace and sip red wine when we lived in South Lake Tahoe  last year and talk about the upcoming olympics.    She has a beautiful spirit and deserves to be on top holding the Gold.  Jamie is an incredible example to all the little girls around the world, including Hanalei.    Since Jamie lived next door, Hanalei would just walk over to give Jamie a cupcake or to hang out and look at all her beautiful crystals she had hanging in her house and on her terrace, Jamie always took the time to talk with Hanalei and invite her to hang out with her and the girls.
I know that South Lake Tahoe and all of Jamie's family are extremely proud of her, we send love and support to you from Panama.  Way to go girl.
Below is excerpts from from The Associated Press article on Jamie's win.
Anderson soared to victory in a near flawless run in the women's final on Sunday, a day after Sage Kotsenburg captured the men's gold medal. The 23-year-old from South Lake Tahoe, Calif., did it, as is her fashion, when the moment absolutely required it.
Down to one last trip through the treacherous Rosa Khutor Extreme Park course, Anderson took a deep breath, enjoyed a brief moment of "Zen" and showcased the skills that have made her the greatest slopestyle snowboarder of her generation.
"I was really just trying to stay calm and kind of reserve my energy," Anderson said. "It was a lot of stress up there and even though it's just another competition, the stage and the outreach that this event connects to is out of control."
Anderson looked at ease as she made history. While some of her competitors struggled to find enough air time to provide the series of spins and grabs necessary to impress the judges, Anderson floated through the gray conditions.
"Jamie's an awesome competitor," American teammate Karly Shorr said. "She does whatever she has to win. She never cracks under pressure. She uses it. She lands."
Anderson had expressed concern about the difficulty of the course during training, particularly after a jarring crash in practice on Wednesday left heran aching back.
She watched was competitor after competitor struggled to navigate the series of rails and jumps that Finland snowboarder Peetu Piiroinen feared was too big for women.
At times, it looked like it.
Sarka Pancochova of the Czech Republic cracked her helmet during a frightening crash on her second trip down the mountain. She lay motionless on the snow for over a minute before recovering to stand up and make it to the bottom.
Moments after Pancochova's scare, Rukajarvi bumped Jones out of the top spot with a 92.50, her highest of the competition.
And for a few minutes, it looked like it may be good enough. Olympic halfpipe gold medalist Torah Bright — competing in the first of three snowboarding events in Sochi — couldn't catch her.  Neither could Switzerland's Elena Koenz or Shorr.
Ultimately, it came down to Anderson, just the way she prefers it.
She came into the Games as a heavy favorite but found herself up against it after a so-so first run. Taking a deep breath and trying to drink in the moment, she delivered with a combination of athleticism and grace no one can match.
Anderson made the "safe" sign after landing her final jump and flipped her r with
ight mitten in the air before exchanging hugs with Rukajarvi, Jones and Switzerland's Sina Candrian. It was a moment symbolic of the camaraderie enjoyed by a group of snowboarders who consider themselves friends just traveling the globe trying to put on a show.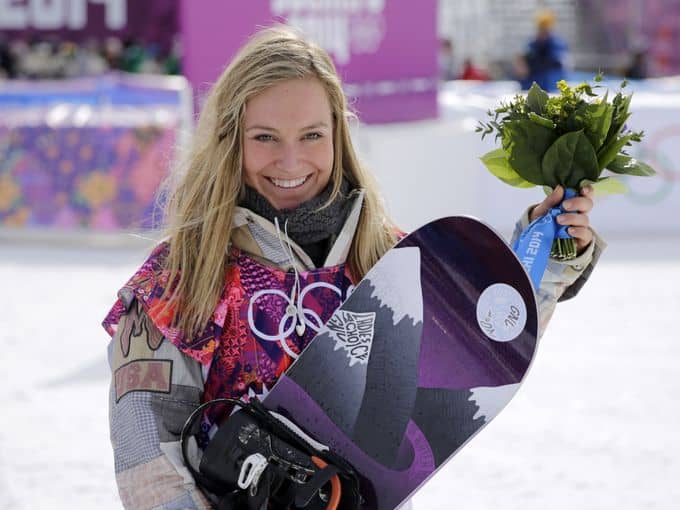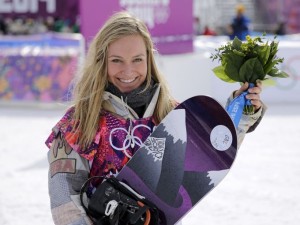 "I think most of us have been thinking about this for a few years," Anderson said. "To just have that moment come so quick and really knowing this is your moment, you just want to shine and do your best and show the world what a fun sport snowboarding is."
Jamie Anderson has been reading "The Power of Now" throughout the season, taking the message to heart as she tried to focus on the current moment rather than the looming pressure of the Olympics.
After winning gold at the Sochi Games, the American can enjoy every second of the now she's put off thinking about this year. Anderson won the women's snowboard slopestyle event at Rosa Khutor Extreme Park on Sunday, giving the U.S. a gold-medal sweep after Sage Kotsenburg won the men's final on Saturday.
"I'm so happy," she shouted as she hugged her coach. "It was fricken' mind blowing. What a day."
Congratulations Jamie from the Unstoppable Family!