We Love Legoland in Malaysia
What I think I love the most about living abroad is experiencing different cultures in ways that is unimaginable.Our family made a last-minute decision to fly to Malaysia for our visa run that we have to make every two months to remain a visitor in Bali. We decided to couple it with a mini holiday at Legoland in Malaysia.
Even though we lived in California when Legoland was open, we never visited. After a three hour flight and a 3 Hour Drive from Kuala Lumpur we arrived at Legoland.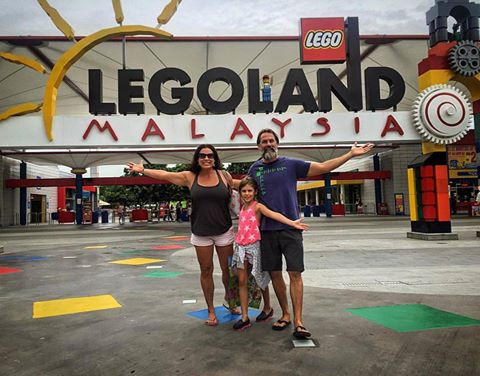 Legoland in Malaysia is Like No Other Adventure
Check out Brian and Hanalei running into the park. She is SO excited to be here and I'm thankful that we are in a place we can take her.
You see, traveling around the world and visiting adventure parks from other countries allows us to experience different beliefs. We can turn these fun trips into a lesson on world culture.
This is what I love about traveling to other countries and experiencing amusement parks. Malaysia is a very high concentration of Muslims so there are prayer rooms and Legos that use that represent their beliefs.
Malaysia Theme Park
When you come to Legoland here in Malaysia, you are in for a real treat. The park has many different amenities that you can take advantage of such as:
Hotel

Restaurants and Bar

Children's play area in the hotel

Waterpark

Places to shop

Ninjago Live Show

Star Wars Miniland

Lego 4D movie

Rides
You can learn more about the park on their website. 
We wanted to stay at the hotel here, but it was booked up for the next month. Apparently, if you are going to plan a trip and actually want to stay in the resort, you are going to need to plan in advance.
Fun With a Legoland Dinosaur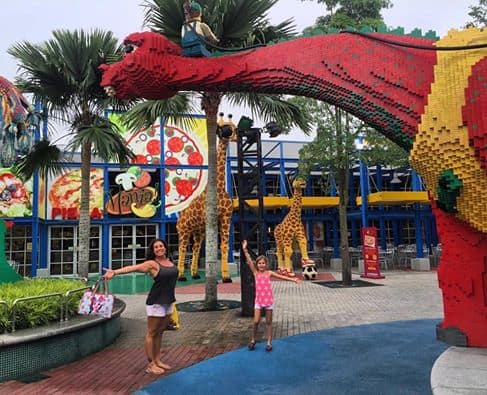 Do you see the size of this dinosaur that is made entirely out of legos? This theme park is like no other that you will ever visit. The life size statues represent creativity that is absolutely incredible.
The detail that is used for these displays is simply unreal. If you have ever tried to make a basic lego house, you know how time consuming it can be. Imagine a life-sized dino!
Travel is Something You Can't Explain
Our message to you is take some time to go explore new countries and cultures. When you get outside of your little space, your view of the world will most certainly change.
It's closing time here in Legoland. Take a look at our final Facebook LIVE video.
I'll leave you with the lyrics from the Lego Movie. Oddly enough, I would say that these few lines describe exactly what the Unstoppable Family is all about.
Everything is awesome
Everything is cool when you're part of a team
Everything is awesome when we're living our dream
Everything is better when we stick together
Side by side, you and I gonna win forever, let's party forever
We're the same, I'm like you, you're like me, we're all working in harmony
Everything is awesome
Everything is cool when you're part of a team
Everything is awesome when we're living our dream
Want to be UNSTOPPABLE?
Enter your info and we'll send you TWO e-books! Get our 'Practical Guide To Living Unstoppable' AND 'Secrets to Living as a Freedom-Preneur' absolutely FREE!
We hate spam just as much as you