Unstoppable Family Hosts Empower Hour at 9pm EST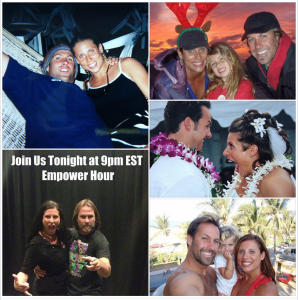 Join us at 9pm EST
Dial this number:
+1-209-255-1040 at 9:00PM EST (New York)
Today marks our "16 Looooonnnnng Year Anniversary" since RHonda Swan& I started Dating, Going out, going Steady, etc….you call it!
It was on July 7th, 1998 on the beaches of San Diego, California that I asked this fine woman to, "let's get a bit to eat…. what do you say"….in the manliest way!
We rode our beach cruisers along the boardwalk to Saska's Restaurant Mission Beach where I politely asked our waitress to open up the top deck for us to dine, so we could be under the stars ….and she obliged. Ah yes, you can smell the romance brewing with the Swano, eh?
We enjoyed drinks, a candlelight Sushi dinner and plenty of laughter under the stars on a clear San Diego night…….which pretty much sealed the deal.
Over the past 16 years…..
* We bought our 1st home together in Mission Beach, CA in 2000…
* We got married in Hanalei Bay, Kauai on Nov 28th, 2003 with 75 of our closest friends & family…
* In 2005….Rhonda joined a weird, internet business thingy, quit her corporate job and then retired me from a 9.5 year stint as a Robotics engineer
* In 2006 – we set out on a 3 month around the World trip that included Africa, Australia and New Zealand….this was our "last Big Trip" before having kids…because you can't travel with children, right?
* April 17, 2007 – our daughter, Hanalei, was born…a blessing
* Between 2005 – 2008 – made some bad decisions in real estate & development partners…and dealt with lawyers and lawsuits for a couple years…no fun.
* Early 2008 – wiped out financially & emotionally from the real estate deal
* June 6, 2008 – after reading & listening to Tim Ferriss's "4 Hour Work Week" many times over….we made the decision to go on a 2 Year Journey around the World, since we knew how to make a living in this online world….
* Nov 25, 2008 – after 11 amazing years in San Diego we set sail on our Journey!
To save you Time – here's a 195 second video that quickly sums up our past 5.5 years ….it's video #3 down:
https://unstoppablefamily.com/unstoppable-family-success-story/
Lastly, you can join us Live tonight for a special call that Rhonda, Hanalei & I will be hosting….we'll be laying out the foundation of how we've done it!
Dial this number: +1-209-255-1040 at 9:00PM EST (New York)