How New Life on the Road Started
For the last three years Lisa and David have been on a quest for more out of life. More time, more lifestyle, more experiences, and for life to be different….there just had to be more to Life!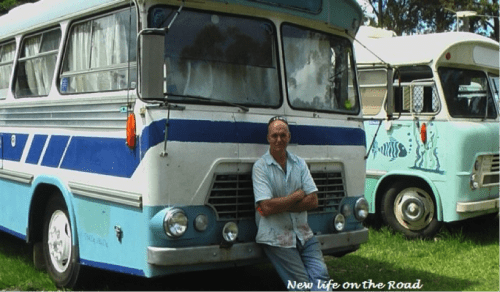 They soon started searching for answers to the questions they were asking.
Last June 2010 Lisa came home from her day and jumped onto eBay. She started to look at Buses (motorhomes). You see Lisa thought that travelling with the family was a good way to spend quality time together. David's idea was to camp around Australia….But Lisa is not a camping kind of girl!
Since that moment their life has changed – for the better!
Here Is How New Life on the Road Started….
It took one moment in time for New Life on the Road to make a major lifestyle challenge. After I placed the bid on the Motorhome, I started to wonder what I had done. Was I crazy, what was I going to tell David, what about our boys – were they going to accept our new lifestyle changes. All these thoughts and more were going through my head.
Then the auction was over and I won the Motorhome. Oh Boy! Now I had to tell hubby, I hadn't even thought about the location of the Motorhome. I guess you could say the location was never something that I had thought to check on!
Once we worked out how to bring our Bus home from NSW to QLD the fun began…it was totally water damaged, and everything needed to be rebuilt or fixed in some shape or form. Nothing was ever the same again (for our family!) At first David (being a boat builder) thought that he could do minor renovations so that the bus could be on sold for a huge profit.
New Life on the Road Is Taking Shape….
But once he started working on fixing up the bus and giving it "New Life" he could see so much potential and before we knew it we had our new home on wheels.
David has spent six months part time on the inside, and then we moved to live with family so that he could spend seven months full time on getting our bus ready to travel around Australia.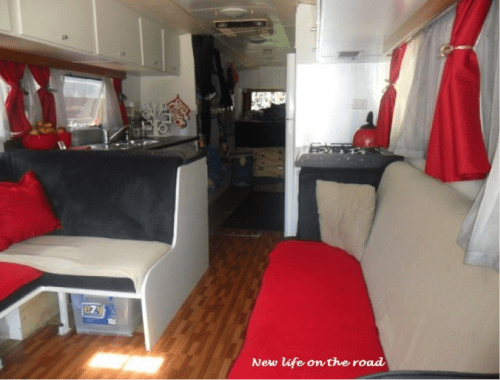 The Inside is almost complete!
The bus has a new Queensize bed, new mattress, new flooring, new kitchen, painted inside, new lounges, new driver's seat, more cupboards added – so much has been done on the inside.
On major reason why we wanted to ditch the "Living in a House" lifestyle and get on the road was because we wanted to show our family the real Australia – we wanted to live with our boys "Seeing" the world and seeing them grow together.
We want our five boys to live a life of dreams, and so that they can learn from life. Instead of being taught what is expected (from the classrooms) – they are learning from the world in so many different ways. From meeting new people, discovering new places, reading books that they want to read, learning when they are interested and from trying new adventures.
The Woody Boys- my reason "Why"
Our family are also learning from being together. We are all learning about personal space/respect/caring/understanding/communication/and so much more!
Our lifestyle is different from most people, but it's a lifestyle that is perfect for our family! That is how New Life on the Road started, and how the beginning of our New Life continues!
Cheers
Lisa

Thank you to the Unstoppable Family for letting me write as a guest blog writer. My name is Lisa Wood and together with my husband we have five boys. To see more about our family travelling in our Motorhome visit New Life On the Road.