Easter Weekend in Hawaii…Bunnies & Ponies
What's Easter Like In Hawaii?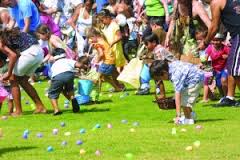 What a great Easter weekend we enjoyed on the beautiful Island of Oahu, Hawaii.   After a great Friday dinner at Roy's in Ko Olina, we enjoyed a Saturday morning Easter Egg hunt in our community.
Until the Easter Egg hunt, we had no idea of how many kids really live in this area…they seem to be hidden more than the Easter Eggs.
Our great neighbors, the Carharts, put on the event…Mahalo to you both!
On Easter Sunday, Hanalei awoke to the pleasant surprise of the gifts from the Easter Bunny…tons of candy to make you go crazy. After a mad sugar rush, we packed the car and headed to the North Shore for a bit of Polo.
For the Family, this was our 2nd Polo match ever….and 2 weeks in a row that we enjoyed the festivities. For all of those who have never been to a Polo match, and have the idea that we are entering the scene of Pretty Woman….not the case here.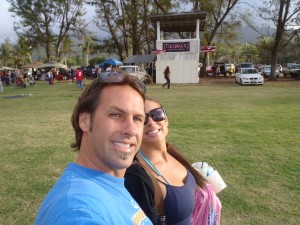 My visualization when I think of the North Shore…is large, crazy waves.
Well, on Sunday on the North Shore it's family day.. and that means POLO.  Cars line up along the polo match like they are staged in a scene for GREESE.  Boozing it up behind the trunks while the ponies play their little hears out and the old timers band sings their best rendition of "I'm so Hot For Her".
Nothing teaches you culture better than living it.
We are so grateful to be living each culture we come in contact with.  We have only been traveling for 3 months now, but it feels perfect right now, and we have no idea when it will end.
Have a beautiful Sunday…
The Unstoppable Family!