Unstoppable Branding Workshop Partners with Vincent Ortega Jr. and ILN
This is an email all my branding workshop students get after week 3 of my Branding Workshop.    We have recently partnered with Vincent Ortega Jr. and Internet Lifestyle Network to bring the most powerful and transformational workshop in your industry.   You not only get 4 weeks of discovering and creating your brand an your voice, but you leave with a custom branded website produced by the industries #1 done for you blog creation company.
Join us at our next workshop April 4th www.Unstoppablebranding.com
If you don't want to join us for the workshop then get your custom blog here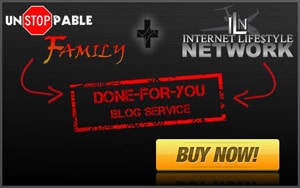 Our Next Unstoppable Branding Experience Workshop begins March 28th.  Join us  by going to www.Unstoppablebranding.com  and register.
Here is a bit of what we cover in the workshop:
Components of the Unstoppable Branding Webinar include:

Brand Elements

:

Learn 6 steps to creating your Unstoppable brand.

Brand Image: Create your brand within the minds of people.

Visual Brand Identity: Discover how to get effective banners & logos created.

Attitude Branding

:

How to get your brand exposure via You Tube and video.

Online Identity: Utilize your brand in becoming a unique person in your marketplace.