Create a Financial Empire Using Leverage & Free Enterprise
How do you get from employee to entrepreneur? From self-employment in a small business to a large business organization generating cash flow to be an investor?  In this 30-minute audio download, Rhonda examines the mechanics of wealth in the four paths to making money- being an employee, being self-employed, being a large business owner, or being an investor.  She discusses the two things that separate the wealthy from everyone else- leverage and control, and how you get to the point where you can exercise these two key elements.
Download Now by Clicking on the Image Below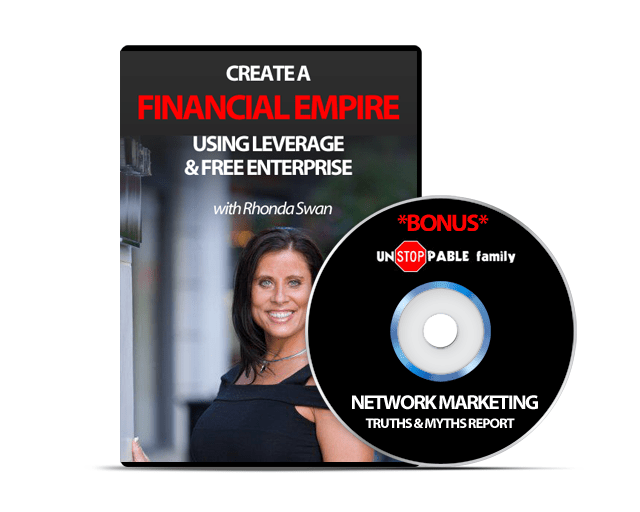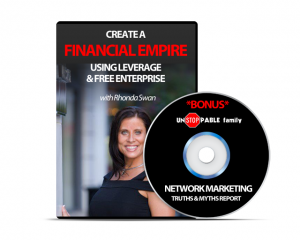 Myths & Truths Repost of Network Marketing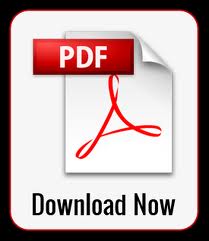 After working online for 9 years we have discovered some of the secrets to building a Financial Empire, the #1 Secret is having a combination of a low entry program combined with a  High Ticket Product.
Which business model makes more sense for you and your personality?
Would you rather work with a smaller handful of leaders and make an incredible upfront income?
Or would you rather build a large group of tens of thousands of reps so you can potentially build a significant back-end, long-term residual income?  If you have a solid work ethic, a positive attitude and you plug into a successful system, you can create an incredible lifestyle with either business model.
Just keep in mind, that whichever you choose, it's important that you have a self branded Attraction Marketing and sales funnel system in place that will allow you to to 3 things: Brand yourself as a leader, teach you effective marketing skills so you can generate 50-100+ leads a day, and make instant profits from every one of your prospects.
This is the one that I personally use, and it's hands down the very best online marketing system and blogging platform around.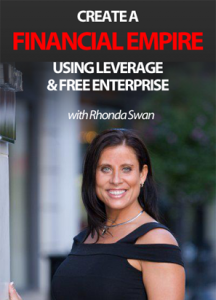 Rhonda Swan
"Branding Queen"
Join the perfect solution of low ticket and high ticket NOW