Charming Florence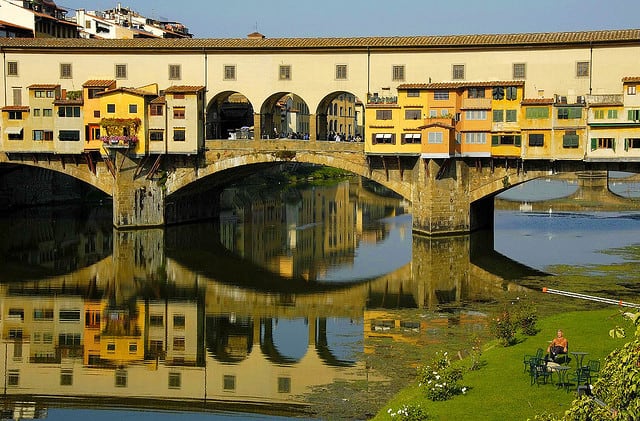 To me, Italy is synonymous with class, oozing with charm and charisma. Florence is the complete epitome of this – the perfect choice for a city-break.
Surely the jewel in the Tuscan crown, this beautiful, artistic city is easily reached from the UK. Fly direct to Amerigo Vespucci Airport, or alternatively into Pisa, taking in the famous leaning tower. Cut the cost of travel by adding airport parking. This is an extra I always pre-book, saving money and cutting stress levels, meaning I start my holiday without sky-high blood pressure! Most airports offer this service, with Edinburgh Airport parking great value.
Florence is highly associated with the Renaissance, so for lovers of art, culture and history, there really should be no need to persuade you! However, for those that need more reasons to book, here goes …
Shopping, art, museums, scenery, fantastic cuisine, nightlife … what more do you need?!
The Ponte Vecchio is a huge attraction, and the oldest of Florence's six bridges, straddling the River Arno – can you think of anything better than eating delicious Italian pasta, with a stunning view of this intricate bridge?
Of course, Italy is famous for fashion and shopping, a major pull for me! There are many designer stores for those with the budget around Via Roma. If you're like me, this is where we window shop! Alternatively, The Mall is more my league.
I can't describe enough how beautiful Florence is. With stunning sights everywhere, it's easy to stand in awe, however head to Piazza del Duomo and visit the imposing cathedral, Basilica di Santa Maria del Fiore. You'll see it long before you reach it, with the huge dome dominating the skyline.
Piazza della Signoria is another massive tourist attraction, a huge square near to Ponte Vecchio, with numerous statues, including the Fountain of Neptune. This is somewhere it's hard not to spend hours, exploring the statues and sculptures. For indoor art, I'd recommend pre-booking the Accademia with the famous sculpture, David, by Michelangelo.
I can't imagine you'd want to leave Florence, however it's in an enviable position, close to other major cities, including Rome and Pisa, so a day-trip to one of these cities could be on the cards.
Night-time signifies time to relax with a glass of grappa and delicious Italian food. Nightlife in Florence isn't raucous, but if you want to dance the night away, you'll be catered for. The emphasis is more on eating and socialising, with plenty on the menu for the pickiest of eaters.
I can't emphasise enough how stunningly beautiful Florence is. The Tuscan area is classy and laid-back, and despite Florence being a big city, the hustle and bustle isn't as prominent as in other major cities.
A city-break this classy deserves a befitting start, so a suggestion of mine would be to look into airport hotels. I've tried this several times and certainly recommend it. I found I started my holiday chilled-out and rested, not frazzled! It also kick-starts your break in style. Check out The Courtyard by Marriot at Gatwick Airport or The Sofitel at Gatwick, both offering great facilities and rates for flights from Gatwick.
Florence – dripping in history, art and class. What other reason do you need?
photo by pasma on flickr