Casa Giuliana, Tenerife Spain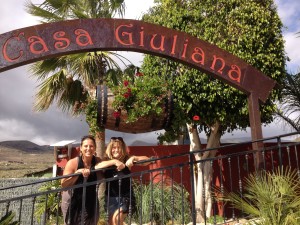 What a treat we had this Sunday to visit Casa Giuliana with our local Italians friends parents.
Hanalei has horse riding lessons each Sunday with her friend Lorenzo, and we always go into the mountains somewhere to explore and to have lunch together as a family.  Lorenzo's parents Silvia and Hernan have become our close friends since we have arrived in Tenerife, and although they are Italian, that speak English and Spanish and we are American that barely speak Spanish, we get along perfectly and help each other with our learning of spanish.
Hanalei and Lorenzo play the " Como Se Dice Game" where they ask each other to say in the name in either Spanish or English since Lorenzo is just learning english and Hanalei the same with Spanish.
Back to how we got to Casa Giuliana.
Since Silvia and Hernan are in Miami for vacation we met their parents at the riding lesson.  With our broken Spanish we asked for a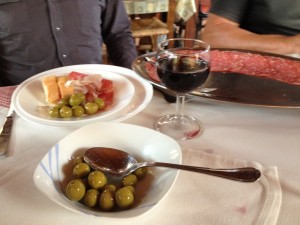 place to have lunch with Wine, and Italian food, and Oscar brought us to his friend Giuliana's restaurant for some " Italian hospitality" .
Giuliana House is a farmhouse lovingly restored Canarian located in flood area of Charco del Pino and with a beautiful view on the South coast of isola.il perfect starting point for those who want to go a day on the beach and another to take a hike.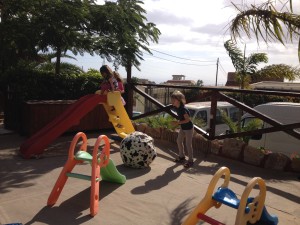 Mrs. Giuliana offers us a menu to the purer Italian style. Typical Italian Antipasti, pesto alla genovese, lasagna and homemade fresh pasta … all prepared in a traditional way and obviously homemade. A friendly place with an elegant and rustic furniture, ideal for a holiday of tranquility.The exquisite treatment and the peace of the place, will make our stay an experience you will want to repeat.
Julian House pocket has a large and beautiful garden with Palm trees, flowers and fountains, solarium, swimming pool with warm water, childen playground, BBQ area and ample private parking
This was a perfect close to our weekend, with good friends culture and more memories for the UNSTOPPABLE Memory Bank!
Today do something you would never think about doing…talk to someone new, take a class or read a new book.
BE UNSTOPPABLE!