Birthday Celebrations at Finn's Beach Club and More
Rhonda and I are pretty lucky that we get to celebrate our birthdays so close together. Mine is May 31 and Rhonda's is June 3. We love to have a reason to celebrate for days together. This year, we spent time at this really rad place on Rhonda's birthday; Finn's Beach Club in Badung, Bali.
Finn's Beach Club Review
Rhonda and I absolutely loved Finn's Beach Club. Here is a quick tour I give you of the layout of the place.
How did you like that music? The atmosphere here was totally rocking. They have the place set up so that you can watch the sunset as you sip your favorite drinks.
It's hot here in Bali, I tell you. Finn's Beach Club is perfect to cool down. You can stand in the water while sipping your drink at the bar.
Of course, you have to know that one of my favorite things about this place, is the surf bar. You can get the best view of the Berawa surf break. For those that are out surfing, they don't have to stop when the sun goes down. Finn's has some powerful flood lights that keep them from having to stop the fun.
Surfing in Uluwatu, Bali
On my birthday, I went surfing in Uluwatu. Uluwatu Beach is located deep under a cliff bank. It has some of the fastest waves, which makes it one of the greatest surf points on the island. Many pro-surfers love to come here, because the waves are perfect for them to do their best tricks.
The day I went out, there were supposed to be some of the biggest swells of the year. While I didn't catch the biggest wave of my life, I did enjoy the best birthday waves of my life…and a few memorable beat downs as well.
Staying at the W Hotel in Seminyak, Bali
We had the chance to stay at the W Hotel in Seminyak as part of our birthday celebrations. Check out this awesome vid that Rhonda shot of some of the scenery.
The W Hotel is absolutely fabulous if you can't tell from the tour Rhonda gave you. They serve incredible food and there is a spa here at the hotel you can take advantage of.
We Exchanged Birthday Messages
I think that birthdays are a great time to look back at what you've done in the past and how far you've come. Rhonda and I both took a moment to write notes to one another.
Here's what she shared with me.
I met this guy back in 1998.

I'll be honest when we first met I thought he was a bit overboard and a little obnoxious..

Many may know that Brian and I met surfing in San Diego over 18 years ago. I had just moved to San Diego, finished my masters degree and started my first corporate job.

Suffice it to say I was rather uptight.

But there was something about Brian that pulled me closer. One thing I realized is that he was true to himself . He lived each day as SWANO…and didn't care what people thought about him.

What I learned about myself through Brian, is that I did care what people thought about me and I was living to impress others rather than to be who I truly was.

I thought he was obnoxious, because I was unwilling to confront myself and to be who I wanted to truly be, he was the mirror I knew I needed to look into but was afraid to do it.

Because of you I looked at myself and decided to be true to who I was, not for anyone else but myself.

Today is SWANOs birthday, and I am grateful for who you are and for always being true.

I love you Brian Swan, thank you for being my best friend, my business partner, my lover and the best Dad to HanaLei.
What I shared with Rhonda on her birthday.
Happiest of Birthdays to the most amazing Wife a Husband could ask for & the coolest Mom a child could ever ask for!

I've known this beautiful Lady and my best friend for 18 Looooong years….and it keeps getting better year after year.

The 1st time I laid eyes on Rhonda….I was about 30 meters out in the Surf in San Diego and saw her walk past my house on the boardwalk with a Surfboard under her arm wearing a cute, white rash guard (wink wink)

Was it love at first sight?

Well, let me check…..extremely Hot Chick paddling out to Surf.

Yep…that's a great way to start 🙂

I was the first guy in the line-up to paddle over and introduce myself….in a bit of a clumsy manner by stumbling over my words. I didn't care….she was so beautiful and her presence was the most powerful!

Yes, it was Love at 1st sight….

It took me a couple months before I asked her out on our first date on July 7th, 1998….and from that Date on the rooftop of Saska's in Mission Beach eating Sushi…we have never been apart.

If you read Rhonda's post the other day about me being the "obnoxious guy" when we first met….I would have to say that was correct.

I'm not sure how he really came together when we're almost polar opposites..it must be the Yin Yang combined with both of us being Gemini's.

Whatever it may be….I don't care Why or How.

I know that I landed the most amazing woman, mother, wife, business partner and best friend that a guy could ever ask for.

I ❤️ you Rhonda soooo much…

Here's to the next 18 years of our lives…

Happy Birthday from your Unstoppable Surfer Dude
Each year, life just keeps getting better for us. We have come so far in 18 years, and I know that we will go even further in the years to come.
Finishing The Weekend at Finn's Beach Club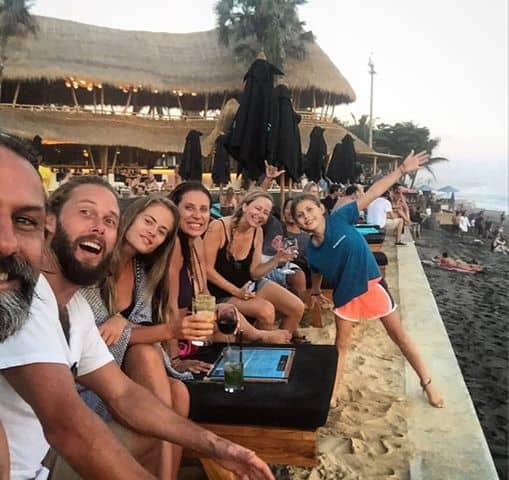 Not only are we celebrating our birthdays this weekend at Finn's Beach Club, we are saying goodbye to our Swedish friends that have been here in Bali for the last 5 months. They are heading out and this is our last time to chill together. We loved Finn's so much, we decided that this would be the best way to wish them off.
I'm so thankful that I get to live this incredible life with the woman of my dreams and my incredible daughter, Hanalei.