How To Have The Best Experience With Snake Charmers in Marrakech, Morrocco
Have you ever wondered what it may be like to walk into the square of Jemma El-Fnaa  in Marrakech, Morrocco?   We did, so we had to go and explore the mysterious lands that everyone talks about.
Snake Charming In Marakech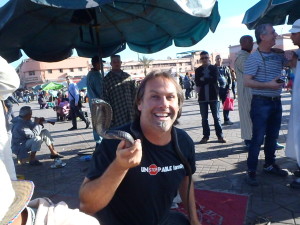 It seems that most people expect snakes in the Marrakech main square called Jemaa el-Fnaa.  
Well, yes you will see Snake charmers in Marrakech. Is this exciting?  You want more?  How about making some pictures with them around your neck? Even more exciting right?
Marrakech main attraction is definitely the snake charmers in Jemaa el-Fnaa.  These guys stay there the whole day with a herd of poisonous snakes (some not poisonous) and try to attract visitors to make pictures and give them money for the experience.
This is not something recent as some people might think stating that Marrakech got too touristy because snake charmers are only there to exploit tourist and ask for money.
Well, think again, 100 years ago when no western tourists came to visit Marrakech — still snake charmers where there to exploit visitors and earn some money.   Remember that Marrakech is a important point in the old caravan trades and always a meeting point of people coming from other parts of Morocco, North Africa and sub Saharan Africa.
It is normal that suddenly while walking in Jemaa el-Fnaa, you end up with a snake around your neck without even noticing.  Yes don't worry it seems these guys know what they are doing.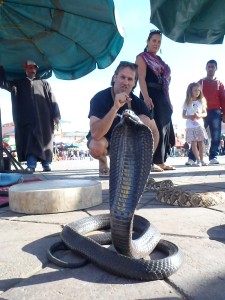 Some people don't like this approach so they usually tell them to back off before they get close. You can do the same — nicely.  I personally come to experience what this place has to offer, but keep my distance until I am ready to engage.
If you end up wanting to make a picture with a snake in your hands or on the neck, you have to expect to pay.  They go crazy and ask up to 200 Dirhams or pictures and video, they will take advantage of your fear and grab your camera to get a shot of you with or near the snakes.
Just remember, you are paying for the experience.  We were prepared to Pay the 200 dh, but told him we only wanted to pay 50dh and he agreed…but we knew we would be giving 200 dh for the experience.
Tips on how to have the best experience with  Marrakech  Snake Charmers:
Be prepared before you walk up to the charmer circle 
Have your start price in mind, and in your pocket and your final.  (they will be completely different)
When you approach, one of the guys will come up to you and start to take you in…STOP.
Tell him you want to take a picture and video ( or whatever) and tell him what you want to pay
Start point should be about 50 dh and be ready to pay 200dh  (they will ask for more, but if you are prepared they will take your 200dh happily)
Take one thing in consideration that the fact that snakes are there the whole day, teeth broken, poisonless (yes they extract the poison — or if they have no teeth they can't really bite)  Usually snake charmers can be friendly unless yourself is not, when you are prepared and ready you will have an incredible experience.  So always smile. If you want to stay, stay. If you want to go, go.
Dealing with Street Vendors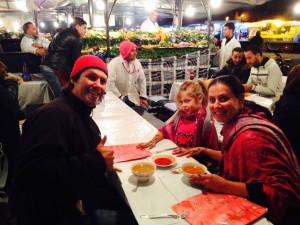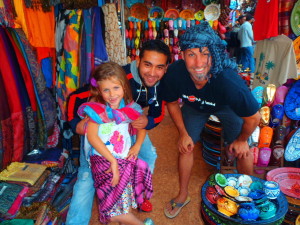 The street vendors can be brutal and others amazing if you come ready to shop so be prepared.
Once again knowing can make your experience the best possible or the worst possible.  The Henna  Tattoo ladies in the square typically have poor quality Henna and will grab your hand and start painting on you then demand a high price  (STAY AWAY, and PULL AWAY)  unlike the ladies on the side near the Hotel Cafe de France, and the Oriental Brasserie.  These ladies have high quality Henna and are amazing to work with.  Expect to pay anywhere from 200 dh – 250dh per hand.
The street food that comes out at dark is safe to eat as long as you are sitting in one of the #numbered spots.  They will take your order, bring you disks of bread and drinks and take pictures of you.
Sample some of the crazy exotic dishes like Cow Brain and Face, along with snails and cow tongue.  We stuck with the soup and bread…but if your adventurous you can get your fill here.
Tips On Dealing With Street Vendors
Henna Girls will grab your hands…only go to the ones outside the square that are sitting
Do Not follow guys to a restaurant, they will take you far away then ask for a tip
Street food in the square is safe if you eat at one of the numbered spots where they serve you
Bargain starting at 1/3 of they price they offer then go up to half as a rule
I hope this post educates you on what it is like to experience Marrakech, and to prepare you for your next venture!
Feel Free to leave a comment below and share with others.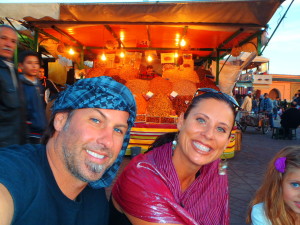 Rhonda & Brian Swan
Freedom-Preneur's, Online Marketers & Travel Aficionado's
How Can We Afford To Travel The World Non-Stop For the last 5 years? 
See the Blueprint we use Here
Life is Meant to Be Lived…but you gotta eat too.  See how we do both!